Welcome to Putney Reflexology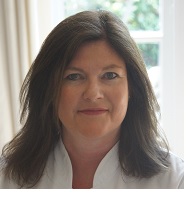 Welcome to the Putney Reflexology website. Alison Burn, MAR is a reflexologist who practises in Putney and the south-west London area. Alison qualified from the highly esteemed Maureen Burgess School of Reflexology at St. Mary's Hospital in Roehampton, SW London, over 10 years ago. She is a full member of the Association of Reflexologists. She passionately believes that reflexology treats the whole person, holistically and supports and promotes well-being on all levels.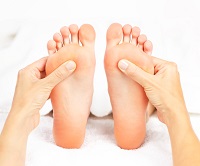 Reflexologists work holistically with their clients and aim to work alongside conventional healthcare to promote better health. We do not claim to be a "cure-all" and cannot diagnose or prescribe. Reflexology has the capability of bringing about a state of deep relaxation. When the body is relaxed and stress is reduced the body works more effectively. With ever increasing levels of stress in everyday life, it is important for people to take more responsibility for their own healthcare needs. Reflexology may be one of the ways to mitigate the stresses of modern life. Read more.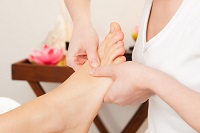 If you have never tried reflexology before, it may be a daunting experience. Reflexology is a very individual treatment, tailored to each client's needs so that the "whole person" is being treated; taking in to account both physical and non-physical factors that might be affecting your well-being. Read more here.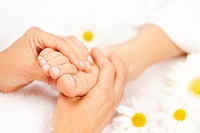 Alison practises reflexology at several locations in Putney and Roehampton. She also offers a home visit service, as well as treatments at her home practice in Putney (she is unable to treat men unless they are referred by an existing client). She is also available for group bookings, on-site corporate functions and pamper parties. For more information, visit the services and prices page.

I came across Ali by chance when I was looking for a good local reflexologist. I was lucky enough that I bonded with her straight away. She is highly skilled at listening to your needs and is so good at making me 1,000 times more relaxed than I was before she treated me. I highly recommend her but not if that means I can't get an appointment because she's so busy!! Regular treatments from her keep me grounded, relaxed and happy!


Anouk, Putney
For more information or appointments, please complete and submit the form below.